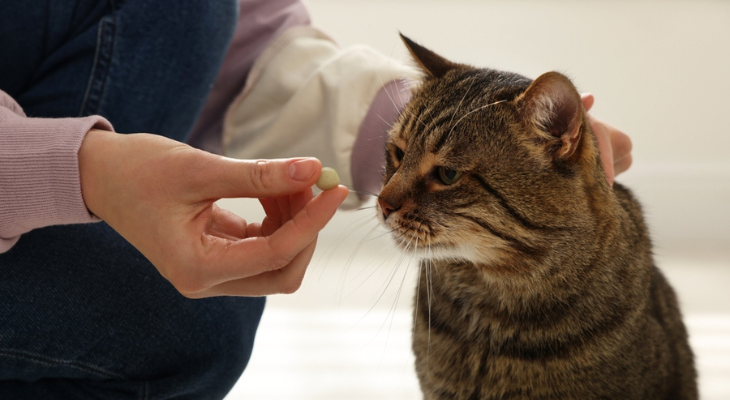 How Arthritis Affects Your Pet
Arthritis takes a toll on your pet's joints, making walking, jumping and other everyday activities much more difficult. Learning about arthritis symptoms and treatments can help you ensure that you're doing everything possible to ease your pet's pain.
What Is Arthritis?
Osteoarthritis happens when the protective cartilage at the ends of the bones in a joint wears away. The cartilage cushions the bones and makes it easy for them to slide when a joint moves. With little or no cartilage to protect them, bones grind together painfully. Pets with arthritis often become less active due to joint pain and stiffness.
According to the American Kennel Club (AKC), arthritis most often affects the hips, lower back, elbows, wrists, and knees in dogs. ASPCA Pet Health Insurance notes that cats are more likely to develop arthritis in the back, knees, elbows, jawbone and hips.
Osteoarthritis can be caused by:
Aging
Hip or Elbow Dysplasia
Joint Dislocations
Injuries
Joint Infections
Previous Surgery on a Joint
Activities That Stress the Joints
Cushing's Disease
Addison's Disease
Diabetes
Increased Pressure on the Joints Due to Obesity
Some breeds are more likely to develop arthritis or conditions that increase the risk of arthritis than others. According to ASPCA Pet Insurance, arthritis often occurs in large breeds, like German Shepherds, Rottweilers, Great Danes, and Doberman Pinschers. International Cat Care reports that Abyssinian and Devon Rex cats are prone to kneecap dislocations, while hip dysplasia is a problem in Persians, Maine Coon and Siamese cats.
How Can I Tell if My Pet Has Arthritis?
Pets can have arthritis for some time before their families realize that something is wrong. Signs that could mean that your pet is suffering from joint pain and stiffness include:
Slowing Down. Your dog or cat may not be quite as active as usual and uninterested in going for walks, running or playing games.
Trouble with Steps. Does your pet rarely go upstairs anymore? Navigating steps can be particularly difficult with arthritic joints.
Difficulty Jumping. Pets with arthritis may avoid jumping or may be unsuccessful when they try to jump on elevated surfaces and objects.
Limping. A sudden limp is an obvious sign that something isn't quite right with your pet. You may notice that the limp seems worse after your pet has been resting for a while.
Stiff Movements. Inflammation and swelling in your pet's joints cause stiffness. Your pet's movements may be jerky and less smooth than normal.
Irritability. Pain can affect your pet's mood, making your normally laid-back cat or dog grouchy and impatient. If your pet's mood or personality has changed, a painful condition like arthritis could be to blame.
Housetraining Accidents. Accidents may be more likely to happen if your pet has arthritis. Your cat may not be able to reach the litter box in time or might find it difficult to step over the rim. Poor mobility may mean it takes longer for your dog to travel outside, which can result in accidents.
How Is Arthritis Treated?
Although cartilage can't be regrown once it wears away, your pet's veterinarian can offer a few treatments and suggestions that may help reduce pain and stiffness, including:
Medication. Nonsteroidal anti-inflammatory drugs (NSAIDs) and other medications relieve pain and stiffness and can help your pet move more easily.
Disinterest in Grooming. Your normally well-groomed cat may begin to look disheveled if arthritis makes grooming difficult.
Weight Loss. Losing weight reduces pressure on your pet's joints and may help minimize damage to the joints.
Change in Diet. Your pet's veterinarian might recommend switching to a food that contains eicosapentaenoic acid. This type of Omega-3 fatty acid improves symptoms, reduces joint inflammation, and may protect the cartilage, according to the AKC.
Exercise. Although your pet may be reluctant to move, a little exercise can actually reduce pain and stiffness. Vigorous activity isn't a good idea, but short walks and other activities can be very helpful for pets with arthritis.
Supplements. Glucosamine and chondroitin sulfate, the same supplements people use, to ease arthritis pain may also be helpful for pets. Be sure to ask your pet's veterinarian about the proper dosage of any supplements.
Are you concerned that your pet may have arthritis? We can offer treatments that will ease your pet's pain and improve its mobility. Get in touch with our office to schedule an appointment.
Sources:
ASPCA Pet Health Insurance: Symptoms of Arthritis in Dogs
ASPCA Pet Health Insurance: Signs of Arthritis in Cats
JAVMA News: Getting Ahead of Osteoarthritis in Pets, 1/1/2021
American Kennel Club Canine Health Foundation: Managing Canine Arthritis, 9/19/2021
International Cat Care: Arthritis & Degenerative Joint Disease in Cats, 7/26/2018